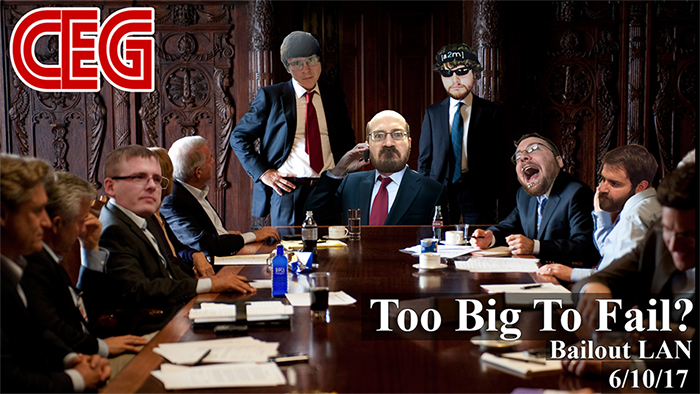 News:
6-2-2017 Too Big To Fail: Tournaments and Organized Gameplay Info
Good afternoon CEG Attendees! We're one week away from our Too Big To Fail: Bailout / Classics LAN. We hope you've done a fresh install of Windows 98SE and are prepared to lug your beige CRT monitor across campus for the event! Here's a rundown of all the tournaments and free play games we have planned for Too Big To Fail:
TOURNAMENTS:
Street Fighter 3: Third Strike
Best of 3 Rounds, 1 warmup match is allowed if agreed upon before playing.
Characters will be picked at the time of play. Character selection may change between opponents. Selecting 'Random' is allowed. In keeping with the theme, gameplay will take place on the Sega Dreamcast. Please prepare your thumbs accordingly.
StarCraft:BroodWars "REMASTERED"
-Map: [Opposing-CEG-states.scx (Will be shared at the event)
-Game Type: Use Map Settings
Organized Play Info:
FREE PLAY:
Unreal Tournament 2004
(Please See an Admin at the event for more information on version)
Onslaught, Torlan / Arctic Stronghold
Half Life 2: Deathmatch
CounterStrike : Source
Anything goes! Custom Maps! Standard Maps! Cornholio.wav!
Battlefield 2
Conquest / TDM, Strike at Karkand
SUGGESTED GAMES:
Not interested in the organized play or the tournament that's being held at the time? Feel free to organize your own games! It is suggested that the game be 10+ years old to be in keeping with the theme (Remastered versions still count!). Some suggestions for classic freeplay games:
Command and Conquer Red Alert 2
A tentative schedule will be posted below. We look forward to fragging you all next week!
- Your CEG Admins
---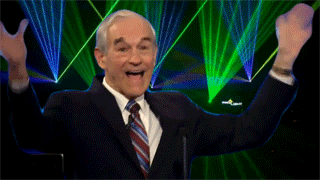 6-2-2017 It's Happening!!
With only 1 week to go until the CEG: Too Big to Fail LAN your CEG admins wanted to bring some attention to the great companies that are supporting the event.
After being a first time CEG sponsor back at CEGCON 2017 ADATA XPG is back sponsoring the event with some great PC gear and accessories. Welcome back ADATA XPG!
Ballistix also made their sponsor debut at CEGCON 2017 and we are proud to announce they are back again supplying us with some great memory products for CEG attendees! Thank you for your continued support Ballistix!
BAWLS is a longtime sponsor of CEG and the gaming community in general making the tastiest energy sodas to keep you fragging long into the night. We are glad to partner with BAWLS again and they have graciously supplied us with more than enough drinks to fuel 12 hours of classic gaming. CEG is proudly Fueled By BAWLS!
be quiet! wanted to ensure that no attendee of the CEG: Too Big to Fail LAN walked away empty handed so they provided us with over 40 of their excellent case fans! Thank you be quiet!
After their CEGCON 2017 debut we are thankful to have Enermax back supplying a PC gaming case and some Bluetooth speakers. Thank you and welcome back Enermax!
Welcome back Futuremark as a sponsor for the CEG: Too Big to Fail LAN! They are providing CEG with 5 copies of 3DMark and 5 copies of VRMark!
Thank you Futuremark for supporting CEG!
GAMDIAS has been a loyal CEG sponsor since their debut last year at the DOOM LAN and the CEG: Too Big to Fail LAN is no exception. Providing some gaming mice and keyboard/mice combos we are proud to welcome back GAMDIAS!
Mechanical Keyboards Inc is your one stop shop for all things mechanical keyboard from retail keyboards and accessories to components for a DIY keyboard! Mechanical Keyboards Inc are back and provided CEG with an awesome Vortex Pure 60% mechanical keyboard to give away to one lucky attendee. Thank you again for your support Mechanical Keyboards Inc!
Max Keyboard is a manufacturer of mechanical keyboards and accessories specializing in custom backlit keyboards as well as custom keycaps. Max Keyboard is back sponsoring the CEG: Too Big to Fail LAN with some backlit keycaps and other swag! Thank you Max Keyboard for supporting CEG!
SilverStone has been supporting CEG events for years and we can always count on them to provide us with some great prizes. This LAN is no exception with two PC cases, two 500 watt power supplys and some great mousepads! Thank you SilverStone for your dedication to supporting CEG!
Vertagear is a gaming chair manufacturer committed to bringing inspired design and innovative features to gaming products. Vertagear have once again provided CEG with a gaming chair for one lucky attendee of the CEG: Too Big to Fail LAN! Thank you Vertagear!
---
3-27-2017 CEG: Too Big To Fail
Good Afternoon CEG faithful! CEGCon 2017 sure was great! Well, our accountants tell us it was a little too great. Help bail out your CEG Admins with a classics LAN!
CEG: Too Big to Fail is scheduled for June 10th 2017 from 9:00am till 9:00pm located in the Arts & Science Commons room 1008 in Big Rapids Michigan for a total of 40 attendees.
Five US dollars nets you 12 hours of classic PC and console gaming goodness!
Registration is this coming Sunday, April 2nd at 8:00pm
Tournament Information TBA, but rest assured you'll need to dig into your gaming archives to compete!
---