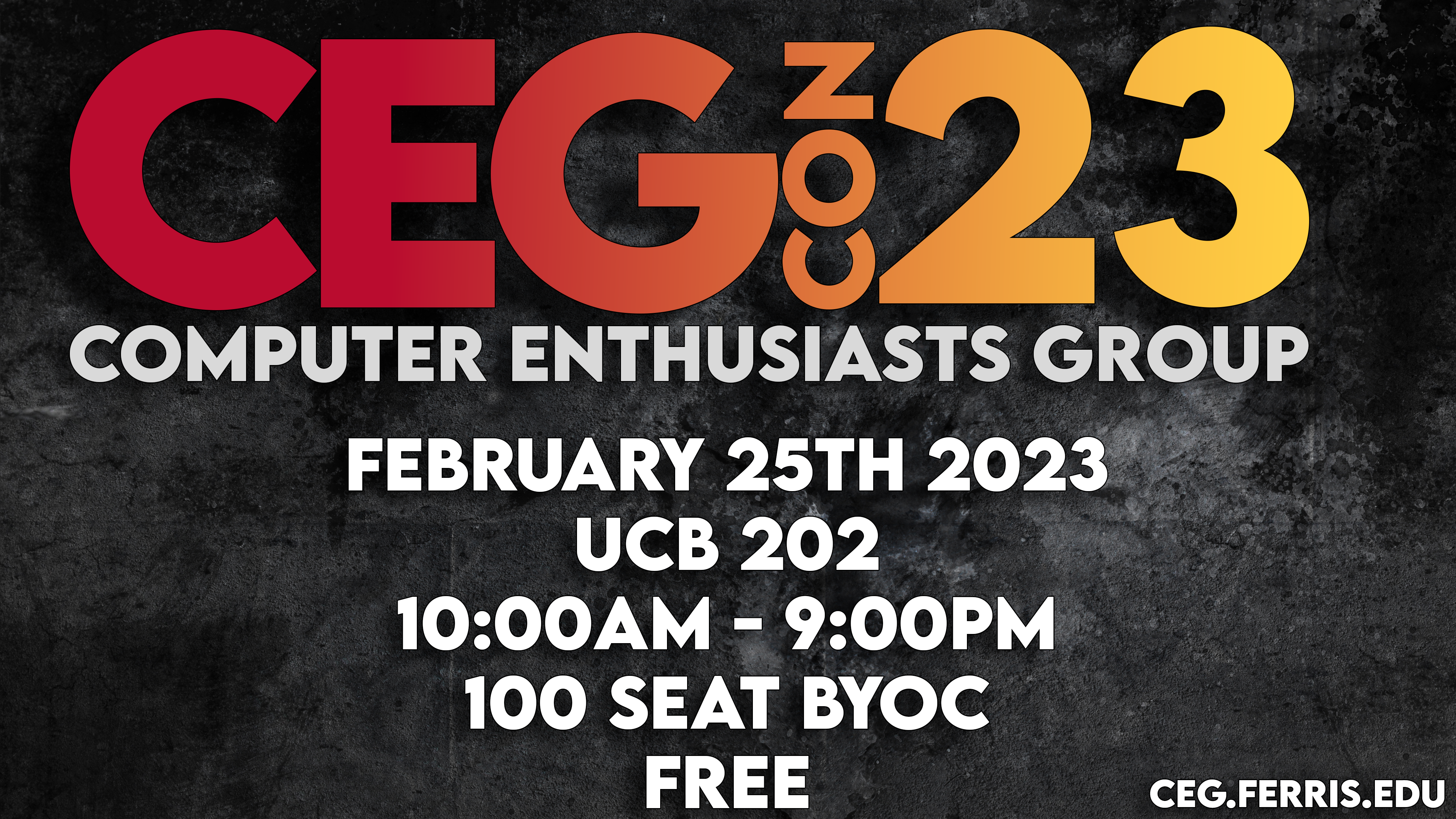 News:
1-10-2023 CEGCON2023 Registration & LAN Communism Announcement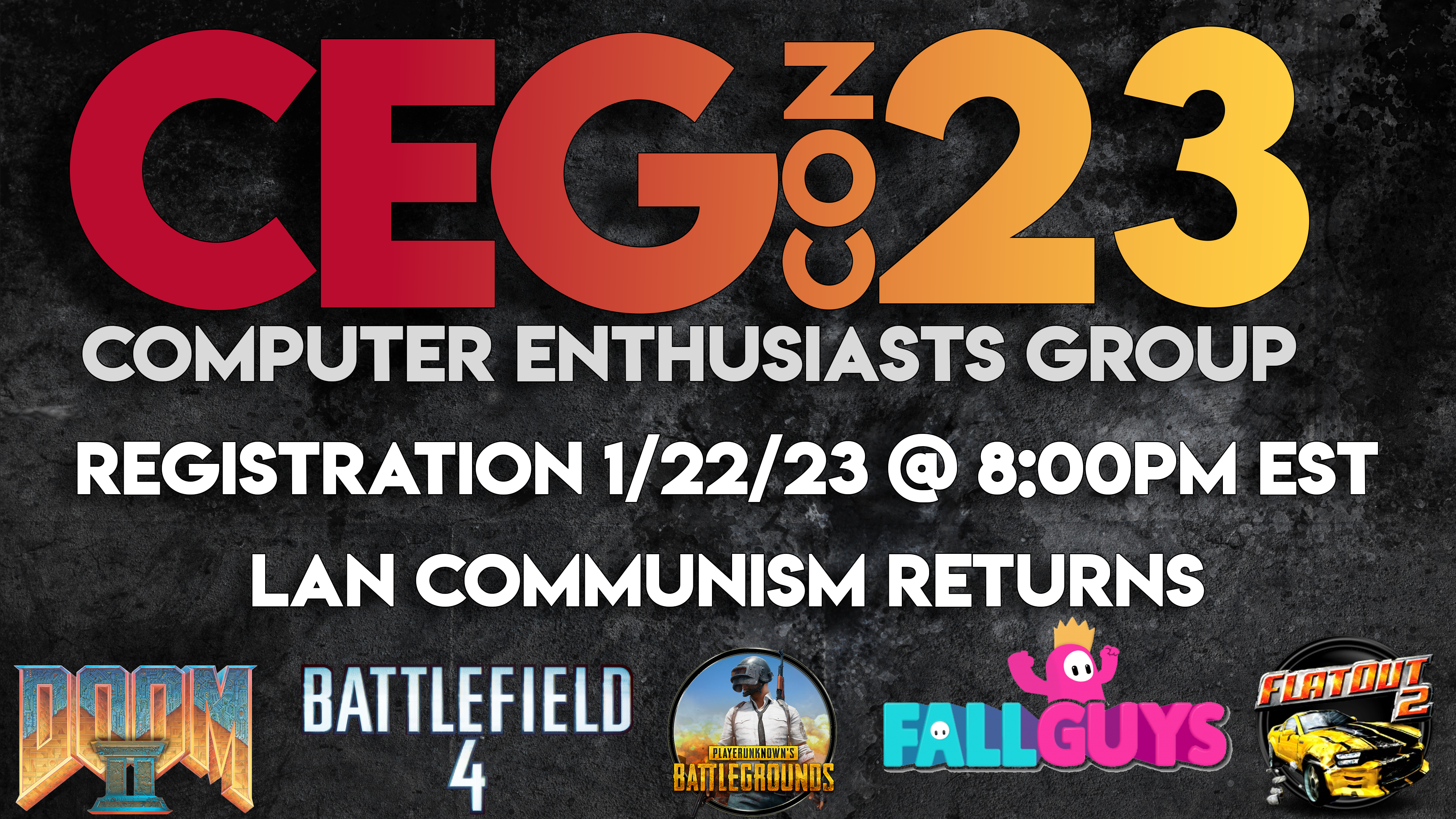 The Spring Semester has started and with everyone returning CEG Admins wanted to provide a few updates for the upcoming event CEGCON2023 on February 25th, 2023 in the David L. Eisler Center Ballrooms RM202 from 10:00 am till 9:00 pm. Registration for this FREE 100-person Bring Your Own Computer LAN party will be opened on January 22nd, 2023 at 8:00 pm EST. You can register by F5ing on the CEG LAN Registration page
LAN Communism returns once again with some new and old favorites...
DOOM II
Grab your double barrel shotgun and prepare for chaos as the arena is wide open for everyone to join and frag your fellow attendees. The classic FPS from 1994 still provides that violence, speed, and momentum that everyone craves. To get started install the ZDAEMON DOOM client *Sever information will be provided at the LAN in Discord
Battlefield 4
CEG Admin WhtW0uldJesusD0 has pulled this older classic off the shelf and has purchased for the month a Battlefield 4 server dedicated for all the attendees to play together. Conquest in a massive 64-person multiplayer experience as BF4 is still the powerhouse for massive FPS wartime warfare! If you don't own BF4 it's currently on sale for $6.59 come on that's cheaper than a Taco Bell meal with a liter of Mt. Dew Baja Blast!
PUBG
One of the original Battle Royals returns to CEG as PlayerUnknown's Battlegrounds (PUBG) with a 100-person custom game lobby everyone can join in to see if they can survive StinkyWag's Wrath! How will you survive? Go for every drop, crawl naked through the grass all the way to the last zone, create an alliance with your tablemate and hope you can survive before you get shot in the back? Who will win that crispy crispy chicken dinner at the end??? Download PUGB right now for Free and get some practice rounds in before the LAN.
Fall Guys
They may be cute and want to be cuddled but always expect some shenanigans when everyone gets into the lobby together... expect your friends to turn on you the moment you gain a slight lead. Fall Guys opens up for a new LAN Communism game for CEG we are hoping everyone brings a controller as we have heard it's the way to play this fun party time game ?? Download Fall Guys for free and prepare for the room to be filled with screams of excitement and the moans of disappointment who will outlast everyone?
Flatout 2
CEG just wouldn't be CEG without this absolute classic racing game... but CEG attendees don't race they take out their vehicle manslaughter on one another in the demo derby doughnut. Bucket your safety belt, put on your crash test helmet, put that hammer down, and give it hell! Participate in several racing heat-style rounds to see who's got the best skills at wrecking! If you don't have Flatout 2 no worries CEG Admins will have you covered at the event!!
---